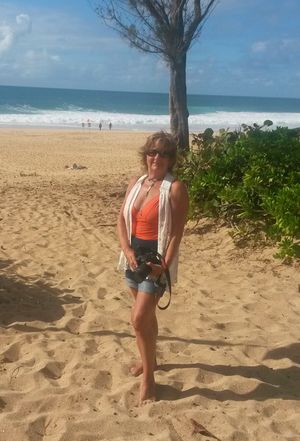 Sammy is referred to amicably by her children as "Poly Polaroid". They have learned to hide from her inescapable lens at an early age and are still attempting to do so to this day.
Friends and family know Sammy the photographer as someone who sees the world through the eyes of a lens. She is interested by the things that people would normally pass by or step on without giving it a second glance. Her two main passions as an artist are music and photography. "They work hand in hand for me, somehow. Many songs have been written with a camera in one hand and a pen in the other. It's just simply relaxing."
Her nature photography is unique in that it is printed on aluminum. It was once said that she had a knack for capturing the romantic side of things. "Nature is my main passion, with a mix of children doing what they do best and I will forever be playing with the light in quest of that perfect shot."
Sammy is the classic story of the overnight success that has honed her craft for over 30 years. "I feel like I am embarking on a brand new adventure. And I can't wait to see what's just around the next corner with the click of my camera. It's still so brand new to me."
After winning People's Choice award in the 2014 edition of the Langenburg Adjudicated Art Show with her Hawaiian dolphin pictures, Sammy won the Adjudicator's Choice a year later with her
Hawaiian sea turtle picture King Pin
. Her photography is regularly exposed in various art galleries of Saskatchewan.
SANDRA HOLLENBERG
CIRRICULUM VITAE
NAME:             SANDRA HOLLENBERG
ADDRESS:      Box 986, Langenburg, Sask.  S0A 2A0
TELEPHONE:  (306)743-7514
EMAIL:            
sammyandjack@sasktel.net
WEBSITE:       
www.sammyrosehollenberg.com
RECENT EXHIBITIONS: 
2013                Shellmouth Art Retreat closing exhibition
2014                Langenburg Adjudicated Art Show
2015                Langenburg Adjudicated Art Show – Adjudicator's Choice
2015                Jocelyn Duchek Fine Art Gallery – Esterhazy, Sask.
2016                Koch Gallery - Langenburg, Sask.
2016                Walk-About Garden Show – Makaha Valley, Hawaii, USA
2016                Prairie Rose Wellness Gallery Space,  Langenburg, Sask.  
AWARDS: 
2014                People's Choice Award – Langenburg Adjudicated Art Show
2015                Adjudicator's Choice – Langenburg Adjudicated Art Show  
EDUCATION: 
Self-taught over the past 50 years
SANDRA HOLLENBERG
EXHIBITION PROPOSAL
As an artist, I firmly believe in the power of beauty.   I believe there is power in the music I write and sing and equally so in the photographs I take.    In wanting to communicate my art to an audience, I do so with words in my songs and with images in my photographs. 
Zeroing in on an idea which plants the seed for a song or an image that plants the seed for a photograph is what drives my work.  
This exhibition speaks to capturing the moment – that fleeting time that can only be captured once. 
For the past few years I have focused on capturing images that speaks to how light touches a subject.  My recent travels to Hawaii have provided good fodder for unique and exciting subject matter.  After experimenting with various printing methods, I have settled on using high definition printing on aluminum panels.   The crisp, clarity of the images is intensified giving the result I want. 
Sharing my work with the public is an exciting and gratifying venture.   I want my audience to see how a moment in nature captured forever is thrilling and awe-inspiring.